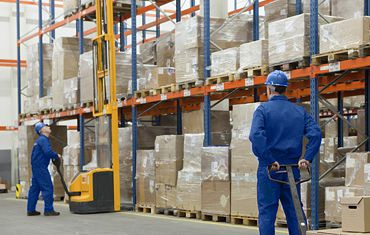 Warehousing And Distribution
Warehousing And Distribution Services – LA 24-7 Forwarder utilizes their logistics expertise to assist your company in packing, transporting, storing and delivering goods with great attention to detail. We are a third-party logistics provider (3PL) experienced in warehousing and distribution enabled by intermodal (including rail) and trucking transportation management services.
We Pay Attention To Detail
When shipping or storing your company's product line, there are key factors involved that determine whether your efforts are cost-effective, efficient and well-planned. LA 24-7 Forwarder begins with services that pick, pack, crate and/or skid your goods anywhere in the United States prior to ever reaching a warehouse. We deal particularly with palletizing and shrink wrapping freight, crating and boxing, as well as preparing electronics and delicate items for shipment.
We Offer Transport Options
Our transport services include both intermodal, including rail, and trucking transport through a national network of agents with expertise in TWIC Certified Harbor Drayage for all major US piers and rail ramps, Straight Trucks with or without Lift-Gate Service, Oversize and Out-Of-Gauge Trucking, Flat-Bed, Step-Decks, Airport LTL Transfers with TSA Approved Drivers, Courier and Messenger Services, as well as Project and Oversized Cargo Services for Energy Industry, including Oil Equipment, Gas Turbines, Steam Generators, Cooling Systems, Wind Turbine Blades, among others.
We Prepare Your Goods Better
There is no limit to the lengths we'll go to deliver your freight with the most efficient mode of transport using top-notch delivery preparation models. Our ability to coordinate Ocean Freight Container Loading, Stuffing and Container Unloading, Devanning, and Unstuffing means your goods won't get lost or damaged in transit. Whether you are importing full containers to the West Coast or East Coast that you need to transfer to a straight truck (over-the-road truck) and distribute to a single location or multiple locations, or even segregate it and deliver to multiple locations, we have the facilities and expertise to handle it.
We Consolidate And Deconsolidate
Furthermore, we manage Container Loading of Cars, Boats and Motorcycles, including blocking, bracing, and securing vehicles on ramps or on the floor while stored inside our facility with 24-hour surveillance. In addition, goods other than vehicles can be stored long term or short term on pallets and either consolidated for import or export over the ocean, or consolidated for transport by air through in-house managed warehousing and distribution services. In addition, LA 24-7 Forwarder provides containerizing of heavy equipment for export, including dismantling and loading into ISO, open top and flat rack containers. This includes wheel loaders, crawler tractors, excavators, motor graders, manlifts, dozers, drum rollers, log skidders and trucks. Our full service consolidation and deconsolidation efforts mean an end-to-end solution for your company.
We Take The Load Off
LA 24-7 Forwarder deals with all sorts of loading services including Flat Rack Lashings and Crane Loading and Overweight and Distressed Loads, including Tri-axle Chassis. And, we continue to manage your loads with the dismantling of trucks, machinery and heavy equipment prior to transport whether flat rack or open top containers. But, loading and unloading is not the only burden you face in transporting. We handle the Contract Packaging, Labeling and Kitting, as well as the US Customs Title Validation and AES filing.
We Make Distribution Simpler
Once your goods are where they will be stored and eventually distributed, LA 24-7 Forwarder provides management and services that make distribution a simpler process for all involved. Our expertise and experience in working with the big box retailers through LTL, Truckload and Reefer transportation services including Amazon, Best Buy, Walmart, Target and Sam's Club means we understand the need for scheduling and keeping delivery appointments that meet the Must Arrive By Date (MABD) and Required Delivery Date (RDD).
Obviously, LA 24-7 Forwarder is the top provider for your warehousing and distribution needs with complete packing, loading, transporting and unloading services available. Get started with us today by calling (800) 648-9889 for your FREE Quote!