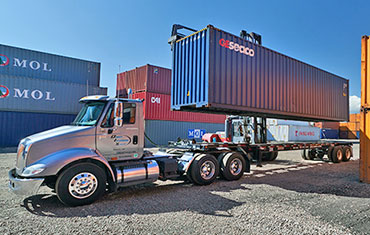 Trucking, Road Freight And Drayage Services
Trucking, Road Freight And Drayage Services – Choosing the right service for your hauling needs comes down to understanding the different services available to you or your company. Trucking services can be long-haul (road freight) or short-haul (drayage) and less than a full truckload (LTL) or a full truckload (TL). LA 24-7 Forwarder uses its network of inland freight transport providers to get your product from one point to the next with the least cost and hassle. We can recommend the various options available for your move and optimal solution, including heavy haul project cargo.
We Have The Solution
Whether you require same day delivery, are located in the US or abroad, or want hauling of hazardous cargo, LA 24-7 Forwarder does it all. We manage the logistics of transporting your goods by road here and abroad. We utilize a reliable network of providers to accurately calculate, pack and deliver your freight with great attention to detail. Our services handle all aspects of the trucking, road freight and drayage transportation requirements, including adhering to carrying capacities and on-road weight limitations, so that you have on-time delivery every time.
We Never Fall Behind
On-time delivery for our customers is the number one priority when it comes to managing their business. We take the time to understand your needs and craft the perfect solution to ensure you get your goods when you need them, if not sooner. We only partner with freight transport providers that utilize cutting-edge technology in transportation logistics management, ensuring that LA 24-7 Forwarder never falls behind the curve of its competitors.
We Focus On Cost Savings
By working with LA 24-7 Forwarder, you'll get the optimal cost savings each and every time. We work around the clock, with in-house agents constantly tracking your shipment to ensure proper communication with our customers in order to anticipate changes in route, schedule or arrival. We guarantee that your freight transport will be calculated and distributed with the lowest freight costs attached as possible.
We Work With The Best
We provide LTL, Truckload and Reefer services to all the big box retailers including Amazon, Best Buy, Walmart, Target and Sam's Club including delivery appointments that meet the Must Arrive By Date (MABD) and Required Delivery Date (RDD). More importantly, LA 24-7 Forwarder chooses the best in providers to meet these requirements and to maintain solid relationships with the retailers.
We Offer The Complete Package
Deciding how to transport your goods should never be a headache or painful experience. Since we handle all types of freight transport, you can count on LA 24-7 Forwarder to contract for the most comprehensive yet efficient service to get your freight to their destination. Our trucking partners offer Flatbed, Step Deck, Lowboy (RGN, Stretch RGN or fixed), Stretch Single or Double Drop Trailers, and Extendable Double Drop Trailers to meet any need.
We Handle All Types
Furthermore, LA 24-7 Forwarder can handle Heavy-haul trucking using modular trailers with multiple axles also known as SPMTs (self-propelled modular transporters or trailers), Full Container Drayage from seaports or rail ramps, Intermodal Transportation including any combination of rail, barge, ocean, air and truck, and offer Truck Expedite Services, as well as Parcel and Courier Shipping.
Without LA 24-7 Forwarder, your trucking experience could suffer setbacks, cause headaches, and pinch your wallet. Start working with us today by calling (800) 648-9889 to get your FREE Quote!