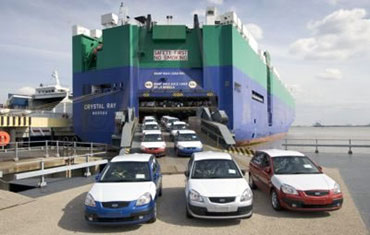 RORO Shipping
RORO Shipping Services – LA 24-7 Forwarder is a leading provider of RORO shipping coordination and tracking. If you've ever considered shipping Cars, Trucks, Boats, Yachts, Buses, Motorhomes, Bulldozers, Tractors, or Machinery, you'll know that you have several options to choose from. Whether you choose air, container or RORO depends on the price you are willing to pay and the convenience you desire. RORO is roll-on, roll-off shipping that transports your cargo with price, convenience and ease of preparation in mind.
LA 24-7 Forwarder can provide shipping management in-transit tracking of a variety of cargo that maximizes cost savings without the frustration of researching available ports, speed and reliability of carriers. Regardless of the size of your cargo, RORO is a viable choice for companies and individuals looking for the simplest and most affordable means possible.
What You Need To Know
While we love assisting our clients one-on-one with the details of their RORO shipment, keep in mind that this mode of transport has a few requirements. First of all, you must not be in a hurry. RORO shipping can take several months, since a full ship takes time to coordinate.
Secondly, RORO shipping offers less protection than container or air shipping, so we highly recommend additional insurance on your cargo before signing any contracts. LA 24-7 Forwarder, luckily, can handle such needs in-house with our Cargo Insurance services.
Finally, your cargo must be able to roll on and roll off the ship. While there may be differing requirements for safety, such as removing batteries, this type of shipment means your cargo must either be functioning or loaded on a trailer, for example.
To learn more about the pros and cons of RORO shipping, and assistance in choosing the right shipping method for your needs, contact us today at (800) 648-9889 to discuss your FREE Quote!
We Have The Connections
At LA 24-7 Forwarder we have major contracts and regular shipments with a large number of carriers including: ACL Cargo / Grimaldi Lines, American Roll-On Roll-Off Carrier (ARC), Atlantic Ro-Ro carriers, Bahri, Eukor Car Carriers, Hoegh Autoliners, "K" Line, MOL Auto Carrier Express (MOL ACE), NYK RORO, Siem Car Carriers, and Wallenius Wilhelmsen. Each of these carriers are respected in their industry and chosen for their attention to safety and details specific to each of our clients.
We Do All The Planning
Without LA 24-7 Forwarder, planning the transport of a vehicle or over-sized cargo can be hugely frustrating. The available information to consumers and companies focuses mostly on transporting cars and lacks the specific ins and outs of other types of cargo. Our company has experience in coordinating RORO cargo shipments consisting of items such as tractors, buses and trucks, or oversized cargo loaded on special flatbed, mafi or lowboy trailers. Cars, whether new or used, can be delivered port to port by ship on a large type of RORO called a Pure Car Carrier (PCC) or Pure Car Truck Carrier (PCTC).
Such details are hard to come by on your own, so we encourage aligning with our in-house experts by calling (800) 648-9889 today for your FREE Quote!