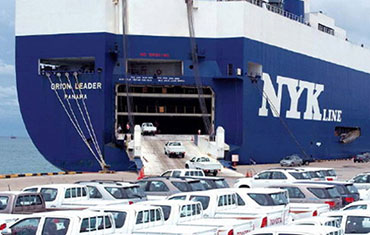 Overseas Car Shipping
Overseas Car Shipping Services – The peace of mind that comes from knowing someone cares about your car as much as you do can only be found with a company that treats your car as if it were their own. Scratches, dents, accidents – they don't happen with LA 24-7 Forwarder as your overseas car shipping coordinator. In fact, we are experienced in a wide variety of vehicles that don't limit you to just your car. We are a pioneer and leader in vehicular shipments and offer a full line of services for our clients.
The Best One-Stop Value
We do everything from ocean freight, loading, AES filing, customs title validation, domestic hauling, and handling. LA 24-7 Forwarder prides itself on going the distance with an added bonus of door to door, port to port and door to port capabilities.
We are capable of organizing delivery of automobiles from any point in the United States. LA 24-7 Forwarder ships thousands of vehicles from the USA to the Middle East, Africa, Europe, Asia, Central and South America, Australia, and New Zealand. We ship High Value Cars, Classic Cars, Vintage Cars, Salvage Cars, Motorcycles, ATVs, Boats, Yachts, RV's and Motor homes.
LA 24-7 Forwarder also uses RORO service (roll on, roll off) from any port in the US. Our personnel carefully inspect and prepare automobiles for further delivery to the RORO terminal.
Backed By True Professionals
At LA 24-7 Forwarder, we only employ experienced and professional personnel with unique industry experience in the leading methods for loading and consolidation of automobiles in containers. This allows us to quickly and effectively load containers and provide the fastest and cost effective service. Whether you are shipping with our container service, RORO or airfreight, we make sure your vehicle is securely transported. Our warehouse employees are trained to securely receive, load, block, and brace your cargo.
Giving The Added Touch
There are details to be covered when preparing a vehicle for shipment that only a professional can provide. While research can assist an owner or company with the basics, having a network of global providers at your fingertips gives the added measure needed to justify our services. For example, we personally handle the domestic pick-up of your vehicle based on your schedule and for your convenience. By giving the added touch, you will find LA 24-7 Forwarder to be the best overseas car shipping partner available.
We have earned our reputation as a careful auto shipper as a result of a customer-centric approach to operating our business.
Be confident we can handle the shipping of your vehicle by calling us today at (800) 648-9889 for your FREE Quote!