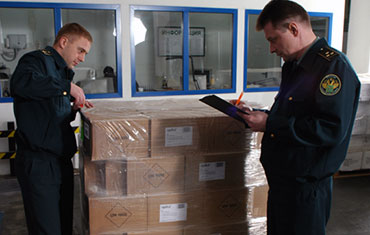 Import Customs Clearance
Import Customs Clearance Services – The hassle that comes with customs clearance requirements for importing your needed goods is what LA 24-7 Forwarder is dedicated to eliminating by providing your company access to our highly capable Customs House Brokers available nationwide. Even if you are not already a logistics, shipping or insurance client, we encourage you to take advantage of the benefits an experienced broker can provide to minimize the cost and delays inevitable with clearing customs on your own.
Our Brokers Are Industry Experts
The US Customs is notorious for its complicated and stringent tests required for individuals to become Brokers. It is often said that the Bar Exam is easier to pass than the US Customs exam! Not only must LA 24-7 Forwarder's Brokers pass the exam with excellent marks, they must demonstrate industry expertise, related experience, and excellent written and verbal communication skills to work with our clients. It takes patience to be a US Customs Broker, and our in-house brokers demonstrate that not only in their daily work, but in their dealings with our clients.
More importantly, all our House Customs Brokers are fully licensed and of good moral character. The fact that our nation requires they pass the test twice a year to ensure proper understanding of ever-changing regulations and procedures is just the beginning of our hiring process. You can rest assured that your import customs clearance process will run smoothly and without unexpected costs when you contract with LA 24-7 Forwarder.
We like to think that our Brokers specializing in import customs clearance are part of an elite group of only the best in the industry. Meet one of them today by calling us at (800) 648-9889 now for your FREE Quote!
We Do The Difficult Work
There are often licenses and special requirements that small, medium and even large companies without internal customs brokerage departments may not be aware of or familiar with. When LA 24-7 Forwarder promises to take the hassle out of import customs clearance, we mean every word of it. Our extensive service offerings cover every gamut of the process, and even offer cutting-edge technology that benefits you as an importer in clearing customs the first time.
As a third-party service, we can even act as the importer on your behalf, using our Importer Number instead of your Tax ID. This benefits you in that our reputation often proceeds us, making the process quicker and our job a bit easier. Don't let the technicalities of importing goods into the US make you pull your hair out, when LA 24-7 Forwarder is here to help.
Our Services Are Comprehensive
There are many facets to the import customs clearance process that LA 24-7 Forwarder must tackle in order to keep our services the best in the industry. This includes dealing with certain agency requirements, including FDA, Prior Notice (Flat Rate), Fish & Wildlife Department (license and permit), USDA, ATF, DOA, EPA, as well as specific state and commerce agencies. We handle all the paperwork involved with meeting clearance requirements as well, including ISF Filing, bonds and insurance, import and export carnet, HTS classifications, remote entries and filing, Temporary Import Bonds (TIB), and warehouse entry.
But, without fail, LA 24-7 Forwarder's services extend beyond the basics for import customs clearance. We extend ourselves to include CBP/FDA/USDA Exam processing, classification, in-bond electronic entry, anti-dumping/countervailing duty entry, and close outs on TIB. In addition, our specialty services create a comprehensive package that can be custom-tailored to suit any import customs program you require to successfully bring your goods into the United States. Our special services span from general order customs clearance to providing manipulation permits, completing remote filing, covering costs of live entry processing, filing remote split-shipments, and coordinating our port fees when remote filing cannot be done.
Regardless of your situation, choosing LA 24-7 Forwarder offers the best in brokerage agents with a comprehensive package of services, so call us today at (800) 648-9889 for your FREE Quote!