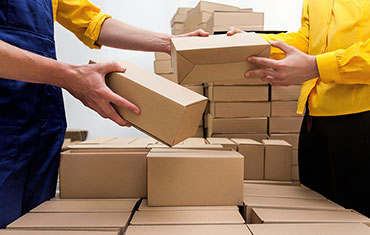 E-Commerce Shipping
E-Commerce Shipping Los Angeles – At LA 24-7 Forwarder, we know that our services are cutting-edge enough to tackle the challenge of any new market fad or change. In fact, with our E-commerce Shipping services, we can help your company cater to the growing population of consumers who shop online. Did you know that roughly 50% of consumers consider free shipping as the number one purchasing factor when shopping online?
If you weren't aware of this statistic, then it is time to upgrade your warehousing, distribution and fulfillment services with an e-commerce solution custom-tailored to your company's unique product line. The landscape of goods distribution and logistics is rapidly changing and LA 24-7 Forwarder is prepared to upscale your service offerings to meet growing market demands.
Don't Get Left Behind
Whether you are fulfilling your orders through your own warehouse or using a fulfillment center such as Amazon FBA (fulfillment by Amazon), understanding the e-commerce landscape in your market segment is key to success. LA 24-7 Forwarder enables such success by enabling the routing of your shipments for optimal time definitive delivery from overseas to the final warehouse or distribution center. Such optimization of your supply chain will reduce costs and ultimately improve customer service ratings within your market.
At LA 24-7 Forwarder, we offer the logistics consulting necessary to stay ahead of the competition through an effective channel or marketplace selection combined with a customized strategy for distributing in multiple channels. By adopting the online sales model your company will see growth potential that didn't exist in traditional channels due to greater market saturation.
Employ The Right Strategy
Once you've committed to making the shift to include e-commerce shopping in your overall market strategy, understanding the best models for implementation is where LA 24-7 Forwarder can provide valuable insight. Our strategic expertise will align you in one of a number of models, including online shopping websites for retail sales direct to consumers and business-to-business buying and selling.
Partner With The Right People
Strategies can seem like a dime a dozen without the right partner to guide you down the right path. There are many variables to consider when building an online presence that intends to sell to a particular audience. LA 24-7 Forwarder employs experts in the fields of the need to provide the best technical know-how and marketing genius required to set you apart as more than just another needle in the haystack.
Particularly in distribution and fulfillment, you'll need LA 24-7 Forwarder to garner the best agents in areas such as International Freight Forwarding (whether by air or sea), specialized warehousing services like pick and pack, kitting, labeling, segregation, cross-docking and palletization, and centralized control of final-mile trucking and delivery that supports customer-driven delivery deadlines.
Learn What It Takes To Excel
The strategic implementation doesn't stop with just choosing the model best for your product line. LA 24-7 Forwarder wants to assist your company in gathering critical demographic data for proper market analysis, as well as providing or participating in online marketplaces that process third-party B2C and B2B sales.
Regardless of what the data tells you, without the right strategic partner to analyze and apply the information, your business will lose both time and money. So, give us a call today at (800) 648-9889 for your FREE Quote!