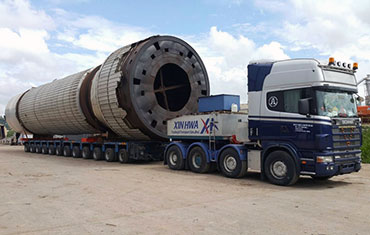 Breakbulk, Heavy-Lift And Project Cargo Logistics
Breakbulk, Heavy-Lift And Project Cargo Logistics Services – LA 24-7 Forwarder is your top choice for transporting cargo of various sizes and weights. We use a combination of air, land and sea to move your Breakbulk (BB) or Heavy-Lift (HL) shipments for an end-to-end solution. Our agents manage the logistics of utilizing multiple modes of transportation, such as Breakbulk, RORO and/or Container Vessels, Barges, Railroads, Trucks, and Aircraft, since virtually all Project Cargo shipments are considered Out Of Gauge (OOG).
Whether you need project planning and support, site surveys, or cargo analysis to safely transport your shipment, LA 24-7 Forwarder tops the competition with our ability to provide job-site delivery. Our global network of project cargo experts ensures successful transport of shipments in several highly specialized areas, including satellites, boats, classic cars, tractors, power generation, and construction materials.
Fortified By Our Global Presence
Breakbulk, Heavy-Lift and Project Cargo logistics require unique, international expertise in the import and export business. With a worldwide network of partners, LA 24-7 Forwarder has the specialized technical and analytical knowledge base necessary to provide door-to-door service from any origin country to any destination in the world.
LA 24-7 Forwarder works within a large global network of experts to offer solutions for any project. With capabilities in air and ocean freight transportation, as well handling of any L/C (letter of credit) shipment for import or export cargo, our project logistics and forwarding management services will give you peace of mind that we have the staff, knowledge, and carriers to get the job done.
In fact, we offer digital track/tracing services using an online interface or email communication managed by dedicated personnel to update you on the whereabouts of your cargo at all times.
Offering Tailor-Made Project Solutions
By using a tailor-made project approach for your logistics plan, we can incorporate our expertise into a successful and hassle-free shipping solution. LA 24-7 Forwarder offers expertise in many areas, such as vendor management and PO processing, cargo collection and packing, export customs clearance and trucking to port or airport of origin.
LA 24-7 Forwarder then uses its special skills to create a final execution plan that includes destination import clearance, customs clearance procedures, identifying destination specifications, and fulfilling any other requirements that are needed to provide a complete project solution for your company's shipping needs.
Using An Integrated Team Mindset
LA 24-7 Forwarder has gained a tremendous amount of knowledge from both on the job projects, large and small, in various industries as well as in-classroom training, conferences, exhibitions and gathering up-to-date information on the Project Cargo industry. This gives us the advantage of being able to partner with your company's logistics and/or engineering team with the ultimate success.
Specifically, we assign dedicated global project cargo experts to your project that will analyze, plan and execute the logistics according to your requirements. At LA 24-7 Forwarder, we consider our agents to be an integrated part of your team, properly calculating project requirements, creating a strategic plan and executing that plan in tandem.
We always strive to apply our company's collective knowledge base, skill set and project management techniques to a broad range of activities to meet the requirements of any project.
So, call us today at (800) 648-9889 for your FREE Quote and rest easy in the hands of LA 24-7 Forwarder!